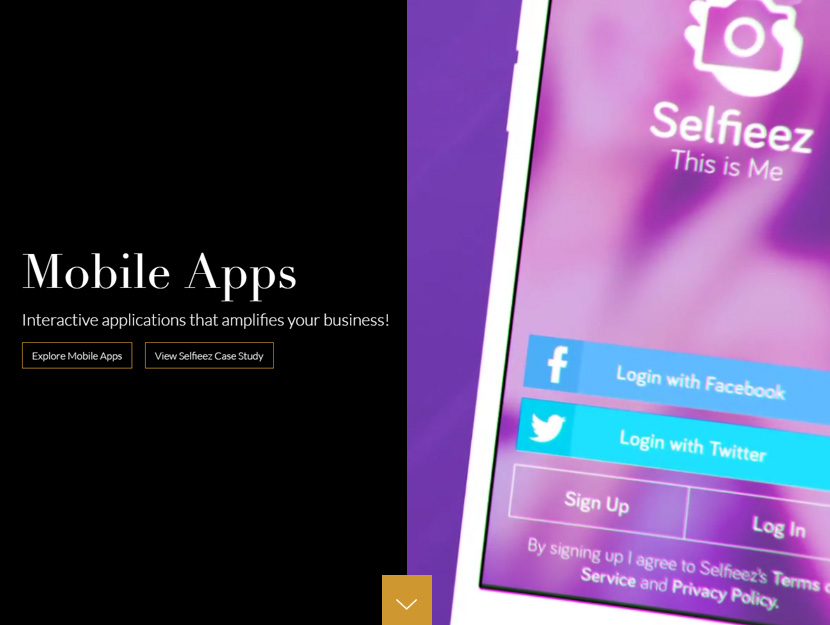 Wowing our customers is our daily need to feel that we are feeding our dream in the rightful manner. And here are the ways through which we fulfil our dream of helping you build yours.
We are in a business of making people celebrities. Each day as we connect with our customers, they tell us how much they appreciate our assistance. Our mission at Code & Co is to bring in that u-curve on customer's face each time they come to us for assistance.
Look at the revamped website that we have created from scratch. We built this new website to feed our passion to create excellence and to expand the horizon of our services. We don't want to confine ourselves only with few limited services. We want to help you become a full-fledged profitable business irrespective of your size, turnover or conversion rates.
Business is built to grow, to expand, to erase the boundaries of confinement and to enthral the customers you serve. Wowing our customers is our daily need to feel that we are feeding our dream in the rightful manner. And here are the ways through which we fulfil our dream of helping you build yours –
Tailored website: Customization is the key and we understand your need. Any website that you need to uplift your brand, whether it's static or dynamic or responsive, we are here at your aid. Give us your preference and we will create the most tailored website just for you.
CMS website: We understand why you have started your business at first place. You want to be in charge, even of your website. Thus, we would create for you CMS website, so that you can take charge of your content all by yourself. You don't need to depend on anybody to change, transform or deal with the content. You can change the write-up as and when you would require.
Ecommerce website: Brick and mortal model of business is quickly becoming obsolete. You need a new model, a virtual model which will bring your store nearer to customers. And we would do that for you. We are the bridge-maker and by building effective ecommerce websites, we will bring customers to your virtual store without you worrying about a thing.
Mobile apps: Do you feel the need of upgrading your services or reaching more customers through mobile applications? We can help. The expert team at Code & Co is always ready to build new things out of scratch. We view our work as craft and we would love to bring in value to you until you are fully satisfied.
Digital marketing: Digital marketing doesn't need any introduction. Businesses that are not embracing digital marketing are soon tending toward obsolescence. We don't want you to lose your footing in the market place. When it's about full-fledged digital marketing service, we are fully equipped to remove the wrinkles from your businesses. From SEO, to Social Media Management to Search Engine Marketing, we would take care of everything under our digital marketing service and you can finally have the sigh of relief.
Domain & Hosting: Thinking of launching a website after a long while? No issues, we will get you covered. From registering domain names to hosting to website development, we would offer you 360 degree service so that you don't need to worry about a single thing in the virtual world.
Graphics & Branding Design: If we look at our team, you would see that we usher in with a loads of experience in design and business. We understand that your brand identity matters. And that's the reason our specialized team will help you create the perfect brand identity you are looking forward to.
And all of these we will do with love and care and a lot of friendliness. We have seen why businesses suffer! They suffer because they have lost their ability to listen. Whenever any customer connects with us, we lend our ears to them. They speak and speak and speak. And we listen and listen and listen until we are certain that we have understood the exact need and aspiration. And then we take that preference and implement the most adorable piece of thing they have ever seen, yes, their website, their marketing tool, the design, the content and most importantly their dream of becoming celebrities.
Celebration is on. And you too can be part of our huge client base that is happily celebrating their web presence and a transformed conversion rate all year long.
Here's what our happy clients had said about us –
The happy client of Alfred MBC remarked – "They are very accommodating in welcoming our own ideas for the website and materialize everything just as how we want it." You can understand why we say that listening is what has set us apart.
We don't only listen to what you want to implement; we also know how important it is to increase your profits. CEO of HealthCall JLT praised us profusely – "Thank you Code and Co for exceeding our expectations and for directly attributing to the profitability of our company."
We don't stop until you are satisfied. Proof? Look at what CEO of Selfieez said about us – "Code and Co has shown me great patience and understanding, as I constantly seek perfection! They have produced for me a true 'quality' product."
Why do you think we are able to bring in so much value and able to amplify profits of every business we work with? The reason is echoed in the words of the Head of Communications & Branding, Albatha – "The team at Code and Co is creative and aware of latest technologies. More importantly, their continuous support is so valuable."
You may understand from our customers' feedback that we walk our talk. And for that sort of integrity we are able to work with several businesses hailing from different background, having different sizes and portraying different products and services. For example, we have been working with Comicave, a unique comic store in Dubai and Echoes Dolls which has taken children's drawing and created something tangible and 3D. We also have been associated with Golds Gym, a sought-after name in fitness industry; Selfieez, a unique mobile application to have fun with your selfies; M2M, a bespoke tailoring company; Kofee Bar, a Dubai based café and so on and so forth.
If you have a business, let's sit and talk. There will be few side-effects like a mind-map for right execution of your project, flattened profit and a lot of synergy.
Connect with us right away. You can email us at info@codeandco.ae or call us at +9714 551 6085. You can also visit our website for more information – https://www.codeandco.ae/